I learned recently of the death of a dear friend of mine, Sister Perpetua, a Mercy Sister form Kilkeel, County Down, Northern Ireland. My first contact with her was around 1979 when I read about her in a Catholic newspaper. She and some other Mercy Sisters had gone to work in Iceland, a country I had always been interested in. I wrote her a letter and, many months later, received a reply. This led to the first of three visits to that beautiful country. She was there from 1977 till 1987. My last visit was in 2000 when I gave a weekend retreat to Filipinos living in
Reykjavík followed by a pastoral visit to Filipinos living in the coastal towns around the country. (I think there's only one town that's not on the coast).

'Harbour', Kilkeel, painting by Lucia Peka. Sr Perpetua grew up in Kilkeel
St Joseph's Church,
Hafnarfjörður
Sister Perpetua worked in the Catholic hospital in Hafnarfjörður, near Reykjavík. The Sisters often went to Mass in the Carmelite Monastery in Hafnarfjörður. At the time of my first visit in 1981 the nuns were Dutch. They have since been replaced by Polish Carmelites. I celebrated the 'new' Mass, now called the Ordinary Form, in Latin with the Dutch Carmelites and they sang the Gregorian chants.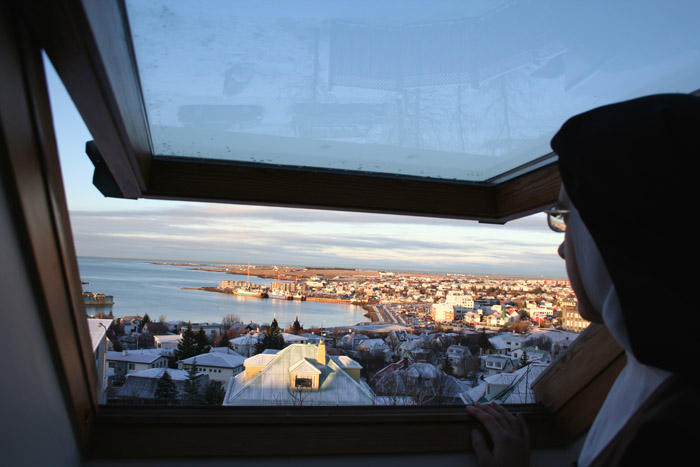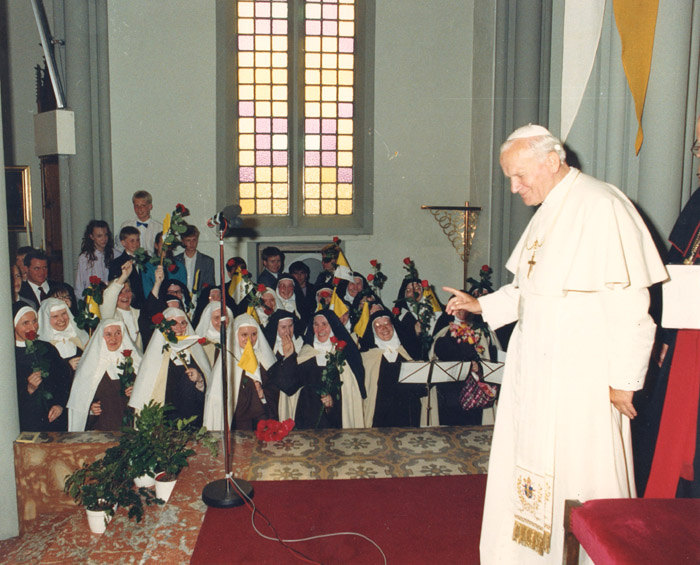 Blessed John Paul visits the Polish Carmelites in
Hafnarfjörður in 1989
When Sister Perpetua went to Iceland in 1977 there were about 1,500 Catholics out of a population of 220,000. In 2004 there were more than 5,500 out of 290,000 or so. The majority of Catholics are foreigners and include significant numbers of Filipinos and Poles. The Diocese of

Reykjavík covers the whole country which is slightly larger than Mindanao, Philippines, and larger than Ireland.
Downpatrick, with Convent of Mercy slightly to the left of St Patrick's church
Sister Perpetua, who had legions of friends, two of whom came from Iceland to visit her shortly before she died, loved to drive. Her eight-year-old grandniece caught this perfectly in the letter she wrote when her 'Little Auntie P' died.
I have two Auntie P's in my life, one I call 'Big P' who lives in Manchester, and the other one I call 'Little P' who lives in the Convent of Mercy, Downpatrick. As you know, she was very special and I loved her very much. Recently she gave me a beautiful handmade doll of Snow White and the Seven Dwarfs which were attached to the front of her apron and when you turned her upside down and unfolded all her clothes there was the Wicked Witch on one side and the Handsome Prince on the other.
That I will cherish for ever and ever. No more little cards in the post or phone calls with a voice saying 'Hello my little darling'. That's gone too.
But even though we loved her very much God loved her more and decided it was time to call her home.
Because she loved to drive the car so much during her life, I especially asked God to please tax and insure the biggest most expensive Mercedes car he can find and let Auntie P drive around the Kingdom of Heaven in style so that she can visit all her friends and relations. That would make her very happy.
So Auntie P, don't break the speed limit up there. Cause you'll only get three points on your licence and then you would have to wear wings like all the other Angels.
God bless Little P
Love you always
Megan ♥
[Note: Driving licences in both parts of Ireland carry points and there are deductions for various offences, which can lead to your losing your licence.]
One glorious summer when I was at home Sister Perpetua drove me along a road I had always wanted to see, the Antrim Coast Road. We also visited one of the Glens of Antrim. Unfortunately, it was the one rainy day during my holiday.
The Mountains of Mourne, County Down
County Down is one of the most beautiful parts of Ireland. There is a famous song by Percy French, Where the Mountains of Mourne Sweep Down to the Sea. It is a favourite of mine but, for some reason, Sister Perpetua didn't like it so I won't include it here!
I was in the middle of preparing this post on Thursday afternoon when the Blogspot system broke down, making it impossible to upload anything. The problem, which lasted for more than 24 hours, has now been fixed.